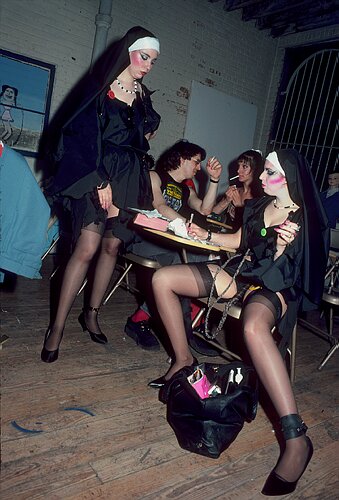 Then my unemployment benefits were cut off and I finally had to pressure the publisher for some real money. "As Music Editor", I pleaded, "I need at least $50 a week, Michael."
"Okay," Michael said. "But I'll have to defer $30 of that."
And so it went. Even then, I guess I was a seeker, striving to understand the master plan of the journalistic universe and my place in it. That place turned out to be low on the totem pole, under financed and overworked. But it had its rewards, the perks that went with life in the half-fast lane, the glamorous circuit of the alternative music journalist, so assiduously documented in Boo's candid photographs. All culminating in, well, being out of a job when the paper was shuttered in 1982. This rude shock was followed by a prolonged Dark Night of the Soul, during which I examined alternative paths to solvency, moved to Woodstock, discovered cross-country skiing, and began writing books. And the rest, as they say, is histrionics.
Photo ©2002 Allan Tannenbaum